Goliath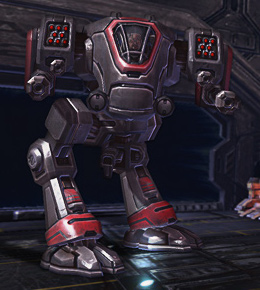 "Goliath" Combat Walker – Driving (Mecha)
A common mobile-defense unit for front-line bases, as well as a popular escort vehicle for tanks, APCs, and other ground units that lack effective anti-air capabilities.
Statistics: dST/dHP 15; Hnd +1; SR 3; HT 13; Move 12/18; LWt. 10; Load 0; SM +4; Occ 1PVS; dDR 22; Loc g2A2L2t.
Front/Upper Hull
[1-4] Armor (dDR 22)
[5-6] Major Batteries: 2 Missile Racks, 100mm (RoF 4x2)
Central Hull
[1-4] Armor (dDR 22)
[5-6] Major Batteries: 2 Heavy Assault Cannons, 40mm (dDmg 6d, by warhead)
[Core] Control Room (1PVS)
1. Comms; 2. Sensors; 3. Computer; 4. Life Support; 5. Controls; 6. Pilot
Rear/Lower Hull
[1-4] Armor (dDR 22)
[5-6] Legs
[Core] Power Core