Science Vessel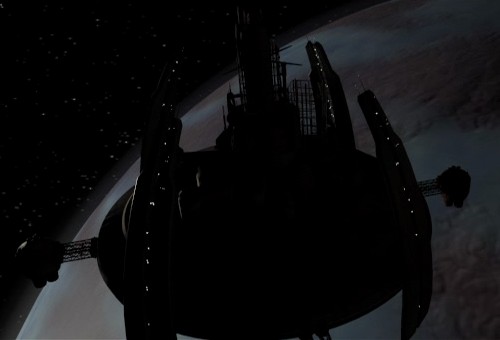 "Explorer Class" Science Vessel - Piloting (Vertol)
A support ship without conventional weapon systems, the Explorer-Class science vessel is a vertol-only aircraft with advanced sensors capable of detecting cloaked enemies, and a number of optional ship systems which allow it to support combat units in the field.
Statistics: dST/dHP 20; Hnd 0 (+3); SR 4; HT 13; Move 5/50; LWt. 30; Load 3; SM +5; Occ 2PVS; dDR 12; Loc see below. Unstreamlined.
Front/Upper Hull
[1-2] Armor (dDR 12)
[3-4] Advanced Sensor Array (See Invisible / "Detector Unit")
[5] Spinal System 1*
[6] Spinal System 2*
Central Hull
[1-2] Armor (dDR 12)
[3-4] Mobile Lab facilities (see Ultra-Tech, p. 67)
[5] Spinal System 1*
[6] Spinal System 2*
[Core] Control Room (2PVS)
1. Comms; 2. Sensors; 3. Computer; 4. Life Support; 5. Controls; 6. Pilot
Rear/Lower Hull
[1-2] Armor (dDR 12)
[3-4] Vertol Engines
[5] Spinal System 1*
[6] Spinal System 2*
[Core] Power Core
*Each Science Vessel has room for two Spinal Systems (each of which take up 3 "slots").
1. Defensive Matrix: Gain +50 dDR (Ablative, Force Field, Hardened 3); other spinal systems cannot be used while the matrix is up. Once the matrix has been breached (or intentionally powered down), it can't be activated again for at least 15 minutes.
2. EMP Shockwave Generator: Cause an area Surge effect in a 50 yd radius, anywhere within 1000 yards of the vessel; all Electrical equipment, vehicles, and characters must resist with HT-8(5), or be stunned (knocked out, non-functional, etc) for seconds equal to their Margin of Failure. A target with a force field (Defensive Matrix, Plasma Shields) who fails to resist loses the field field (DR set to 0) for as long as the stunning lasts.
3. Irradiation Grid: Focus an intense beam of radiation on a single target within 500 yds of the vessel (Gunner (Beams) to hit; target may Dodge as applicable); this inflicts 5d(2) burn sur + 5d(5) toxic damage initially, and recurring 1d burn + 1d toxic (no DR) each second for the following 5 seconds. In addition, anyone within 10 yds of the target during those 5 seconds takes 3d(2) burn sur + 3d(5) toxic per turn from secondary radiation. Divide final injury from Irradiate by a victim's level of Radiation Tolerance.
4. Nano-Swarm: Deploy a swarm of tiny robots (actually micro-bots, but 'nano' sounds cooler) to affect field repairs on friendly unit (treat at having Quick Gadgeteer (No New Inventions) and all relevant Electronics Repair, Mechanic, and similar skills at level 14); or to attack enemies as a Devourer Swarm (Area 1d(2) corrosion damage per second; see Ultra-Tech, p. 169). Only a single vehicle (or a squad of infantry) can be affected at a time, and the subject must be within 100 yd of the vessel.